In the summer of 1973 we (OMD's) were a group of unknown hippie hillbillies, who were about to be made lords of an English manor. At least for a little while.
We'd just signed our record contact a few months prior and now we were being shipped off to England to record our first album. We'd been told by our label, A&M Records, that arrangements had been made for us to live in the small hamlet of Headley, which sits on the borders of Hampshire, Surrey and Sussex, about an hours drive south of London.
After spending several days in London to acclimate ourselves to a new time zone, we were picked up one morning in front of our hotel by a hired driver named Donald, (I remember first thinking he looked like a 6 foot tall first grader) who then drove us in his small off-white mini van through the outskirts of London, down the A3 south passed Guildford and then off onto a narrow lane near Hindhead. From there the lane curled its way passed picture perfect little cottages, each with more flowers than I'd ever seen planted in one yard before. Everything was just so, vivid!
I remember it was a beautiful sunny day and we were all smiles and full of laughter as we watch for every new turn in the road, just waiting to discover the next gem that revealed itself within this English countryside.  Then we heard our driver Donald say, "Here we are". And like kids piled up against the windows of a school bus, we push each other aside to get a view of our new home away from home.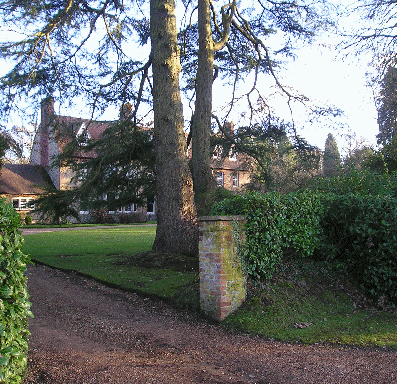 Headley Grange appeared to be straight out of the movie Barry Lyndon. It was a three story Victorian manor with a dark stone exterior that was laced in ivy around its large sash windows and doors. Three monstrous fireplaces, one in the middle and one each at the ends highlighted its steep tile roof with its five pediment dormers.
There was a large open grassy area next to the drive way and the whole place was surrounded by evergreens and pine trees that might have been hemlocks. It was as if we had arrived back at another century.
(standing left to right: Paul Peterson mamagement, Randle Chowning, Michael Granda, Steve Cash, Sidney Cash. Donald our driver, Elizabeth  Anderson, John Dillon, Janet Lee and sitting Buddy Brayfield, Rusty Chowning and LML)
Jumping out of the van we were greeted by an old black dog that we soon discovered had a bit of a smell to him. So we quickly made our way through these tall 10' doors into a huge open hall with a large stairway that lead up to what we'd later discover were the bedrooms. To the right of the hallway was a grand drawing/sitting room with a piano, several leather-upholstered couches and an odd array of stuffed chairs spread around the room. To add to this scene there were a number of timeless wooden tables, each cover with a fine layer of dust and a few old hardback books. All this visually leading towards an obviously well used fireplace, which stood at the far end of the room. Down the hall to the left we found a wonderful old world kitchen with a long narrow table that would seat maybe 12 or more people.
Everything about this place was old. Not that Early American style of furniture old that we see back here in the states. I'm talking old and worn from the use of multiple generations. We had entered a place where we could literally see time.
As the weeks would pass we'd come to find that Headley Grange was far from lavish. It was after all, going on 200 years old when we arrived. And had it not been for the fact that we were going to be living there in the summer time, I'm sure winter would not have been a pleasant experience.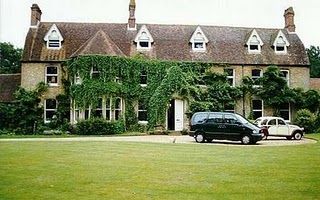 But as it turned out, our recording schedule would not allow us much time for hanging out at Headley.
Our producer Glyn Johns had us booked into Olympic Studios everyday from about 4pm until around 2 or 3am. Add to that the fact that Olympic was in a place called Barnes, which was back in a suburb of London, so we had an hours drive coming and going each day too.
What I remember as being a typical day would have begun with waking up at maybe 1 or 2 in the afternoon. After only having a couple of cups of dark coffee with this wonderful English "double cream" added to smooth it out, there'd just be enough time left for a little breakfast before it was 3pm and off to the studio we'd go with big Donald in his mini van.
From the time that we'd arrive at the studio until around 8 or 9pm we'd either be tracking or overdubbing one song or another. Then we'd usually go eat at either this great burger place call Macarthur's, which was right around the corner or we'd grab a bite and a pint at a beautiful local pub which was just across the street from Macarthur's. Then we'd head back and continue working up until 2 or 3 in the morning.
It was on the long drive back to Headley each night, when for the most part each one of us sat in silent refection of the days work, and with the music still floating around in our heads, that I remember just staring out the window and thinking, "I can't let myself forget this dream I'm living".
We'd arrive back to a quite, dark house except for the lights still burning in the kitchen where the girls (Sidney, Elizabeth and Janet), who were always sound asleep when we got back, would have left a nice dinner waiting in the oven for us. One night I remember they had left a large oven cooked chicken sitting out for us with a red bandanna wrapped around its missing head and a cigarette sticking out of its butt. We all had an extra good laugh from that.
We carried on with this insane schedule for pretty much the whole 3 or 4 weeks it took to complete all the recording and mixing.
It's worth remembering that this was our first time at making a real record, for a real label, in a real studio, with a real famous producer. Each day was so exciting and every hour was an adventure. As the songs would develop from the basic tracking through the additional instrumental overdubs and vocals, it was such great fun just listening to what was being created every day. And once again I'd find myself saying, "Don't forget this dream …"
One thing I'll never forget about Headley Grange were my twilight morning walks. Most nights after we got back to the manor and had a little something to eat, I would still feel too wired up from the studio to go to sleep. So I'd take these walks into the woods behind the manor. I remember those woods were amazing, softly veiled in this smoke like, gray/white light of dawn. I could so easily imagine knights of old riding their horses down the vary paths I walked on those mornings. There were all these smells and sounds of the earth. Like the scent of moist dirt mixed with sweet dew, or that fleeting wisp of wind flowing gently through the trees that caused their leaves to dance in first light. Everything there made me take pause to notice the moment. So for me it was a magic time and Headley Grange was for sure a magic place.