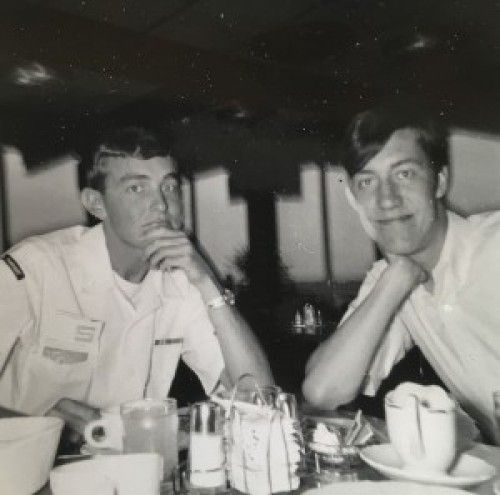 back in 1970 I returned home after serving a 4 year stint in the Navy and on that day my best friend Mike Bunge (pictured on right here) picked me up at the SGFD airport. we'd shared much music and good times together throughout high school and a bit of college before my enlistment, and now back home I was anxious to share with him a batch of songs I had written while away. luckily he had the keys to a studio and within days we started recording some of those songs. on a few of those demos I was very fortunate to have had the wonderful voice of Teresa Van Fleet-Spain singing them.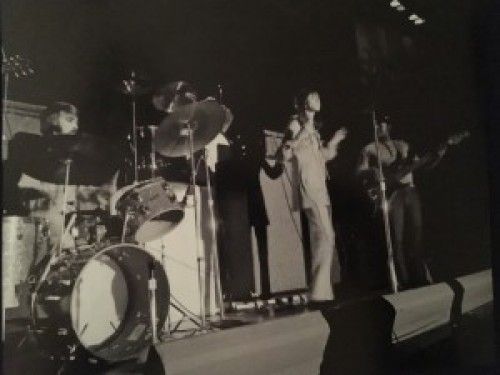 (with Granny's Bathwater l-r lml. Teresa and Don Shipps)
now all these years later I've come to find that Teresa's bother Larry (also a wonderful musician and songwriter), has through the marvels of modern technology, brought one of those old songs back to life and added some very nice visuals on this video. Teresa's beautiful voice is still as clear and moving as I remembered it to be all those years ago...
the mile
what's his name - with his hat and cain - walkin' down a dusty lane
wishing' it would rain -
knowing it would cool the sweat that runs down from wrinkled face
yet he smiles - as he walks the mile
he's all alone - as he walks the road - leading up to that old home
wonder why he cry's -
I wonder why he's going there he must know no-ones there
yet he smiles - as he walks the mile
through his eyes the past appears tear by tear
back to the time when he was but a child
kites and swings, winter and springs, year by year
'til at last he's walked the distance of the mile
of the mile
I wonder why he cry's - I wonder why he's going there
he must know no-ones there
yet he smiles - as he walks the mile
yet he smiles - as he walks the mile
as he walks the mile
( copyright 1970 earl barton / rose bridge music )