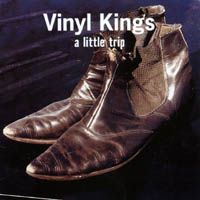 a little trip
the vinyl kings cd's may be my favorite two studio projects of my life so far.  "a little trip" was our first and it was a big tip of the hat to, and in homage of, our biggest musical inspiration, the Beatles.  you see, we started playing together at the famed "Blue Bird Café" in Nashville around 1989 as "the del beatles" and we used that name (without being sued) until we recorded "a little trip" around 1999/2000.  once this cd was finished we all knew a name change had to take place or we would get sued by somebody somewhere. thus was born the vinyl kings.
@ iTunes   A Little Trip - Vinyl Kings
CDBaby
iTunes
Amazon
I'm posting a collection of old songs that have been lying around gathering dust.  Most of them are demos made years ago,  By going HERE you'll be able to listen to them while also viewing stories / lyrics and credits.